VIX, an indicator of implied volatility for the US stock market, has been chronically low, and surprisingly low given the geopolitical and economic concerns in the economy. Market consensus is that the US stock market is expensive and that growth may not be as strong as expected, especially if the expected fiscal stimulus policies of President Trump are not implemented.
VIX, however, gives an incomplete picture of market sentiment. The low level of VIX leads some investors to regard the market as complacent and therefore prone to sharp corrections. An alternative, or more accurately, complementary indicator, is SKEW. This measures the skew of the option volatility surface. Put simply, a high skew is an indication that put implieds are higher than call implieds, in other words, put options are more expensive and call options are cheaper.
Take a look: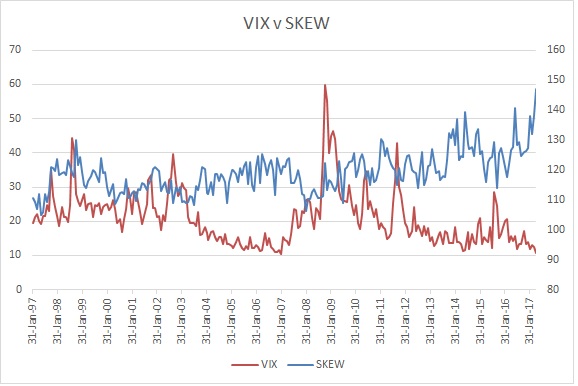 Skew is high even though VIX is low. One possible explanation is that call writing by dividend and income mutual funds and exchange traded products is over-supplying call options while investor caution is over-demanding put options. If this conjecture is correct, it is an indication that investors are far less complacent than indicated by simply looking at VIX.
The market could grind higher for longer.